Since the Covid-19 crisis began, people across Norfolk have been inspired to raise funds to support the amazing work taking place in their local communities. Ken Barcham-Bool is one of those who set himself an epic fundraising challenge to help give back to his community.
Last week, Ken Barcham-Bool started his virtual cycle of 874 miles over 4 days on his Turbo Trainer, in the back garden of his house, finishing the impressive distance of Land's End to John O'Groats on Monday evening. A keen athlete, Ken had set this challenge for himself to help raise funds for Norfolk Community Foundation and Norfolk Blood Bikes, after deciding he wanted to make a difference during this crisis.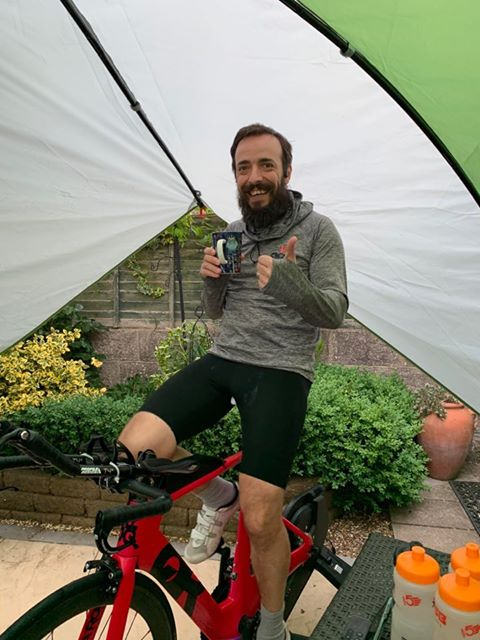 Ken Barcham-Bool
At the end of the challenge, Ken summarised his experience:
"874 miles, 35000ft of simulated climb and about 30000 calories burnt in 51 hours. Virtual Land's End to John O'Groats is complete. It was the most ridiculous idea I've ever had and I won't be having it again but it's raised almost £3000 for two charities. I nearly gave up on day 2, had the shivers and couldn't regulate my body temperature when I got off the bike, nearly cried on day 3, but day 4 was one of the best days of my life and I won't forget it in a hurry – Saddle sore will make sure of this!!"
Ken has now raised over £3,000 which will be split between Norfolk Community Foundation and Norfolk Blood Bikes. If you would still like to support his fundraising effort visit https://uk.virginmoneygiving.com/LEJOG-in-a-Weekend
Congratulations Ken on completing your epic fundraising challenge!
How you can help others in your community
If you've been inspired to get involved and set up a fundraising initiative of your own after reading about Ken's amazing efforts, we would love to hear from you. Contact us via 01603 623958 or email shinebrighter@norfolkfoundation.com
Find out more about our Covid-19 Community Response Fund