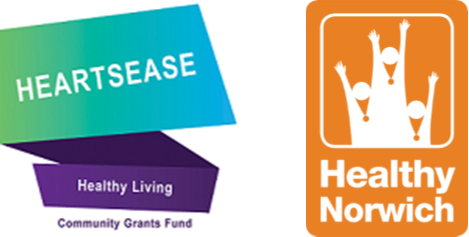 The Heartsease Healthy Living project aims to encourage healthier and more active lifestyles for people of all ages living in the Heartsease area.
Small grants are available to kickstart local projects that make a difference by supporting residents of Heartsease to make lifestyles changes that can lead to health and wellbeing improvements.
Applications will be shortlisted, and those selected will be put to a public vote where local people will have their say in which projects receive a grant.
How much can you apply for?
Grants of up to £2,000 are available.
Who can apply?
If you have a great idea that matches with the aim of the Heartsease Healthy Living project, we want to hear from you.
We generally expect applications to be made by an organisation that has a constitution, or a business.  We expect those applying to have a bank account, and have policies and procedures in place to show that their project will be safe and inclusive.
However, we may be able to support other types of applicants to develop their idea in partnership with a local organisation if you cannot meet this requirement.  This could be a local community centre, church, or other local charity that could help you to get your project started.  Contact us for advice.
Organisations who work elsewhere but have a project idea that directly benefits people in Heartsease are welcome.  All projects need to demonstrate they are clearly working in partnership with local organisations and assets, and have strong links within the Heartsease community which the project can build on.
What types of project are we looking for?
Projects must be focused on creating opportunities for people in the Heartsease area to improve their health and get active, by providing a new activity or substantially develop an existing one to reach a new audience or deliver on different outcomes.
Example activities may include:
Eating a nutritious diet, including by being able to access healthy food, and having the confidence and skills to prepare meals – projects could include community growing projects, cooking or engaging activities that promote healthy eating messages or access to fresh food.
Being more active, whether this is through sports, walking or cycling, gardening or just generally being out and about more – projects could include cycling sessions for children or families, community events encouraging people to get out and about in local parks, gentle yoga for older people or those with disabilities, or intergenerational gardening sessions.
Increasing access to services locally – projects could include innovative ways of encouraging people to access free Slimming World classes, be more aware of their weight through provision of scales in public places, or make better use of other advice and services available.
Improving wellbeing and healthy lifestyles more generally – projects could include stop smoking support sessions, mindfulness groups or budgeting advice.
We would like you to think about who might want to take part in your project, and how many people could get involved.
Applicants should consider the need for their project, and how you know there is interest in it – this may be based on your own conversations with local people, or learning from a previous activity.
Based on findings from the first round of funding, in this round we are particularly interested in projects that will involve local children and young people and families.  Interest was expressed in intergenerational activities, art classes, gardening activities, stop smoking advice, healthy cookery sessions, walking groups, yoga and support for young people with mental health issues.
We would like projects to be able to get up and running from March 2020, and run for a maximum of one year.
Applicants should consider the potential to enable project activities or outcomes to continue in some form after the grant has ended.
What we won't fund
We don't expect to support projects to improve buildings or facilities, or projects that need a lot more funding to be raised before they can go ahead.
We can't cover costs that have already been incurred – so we can't reimburse you if you have spent money already.
Download the full Criteria & Guidance and apply online using the links on the right of the screen.
If you are unable to apply online or need any assistance, please contact the Grants Team.
Back to Grants for groups