Charity partnership sees hundreds of families treated to games at Carrow Road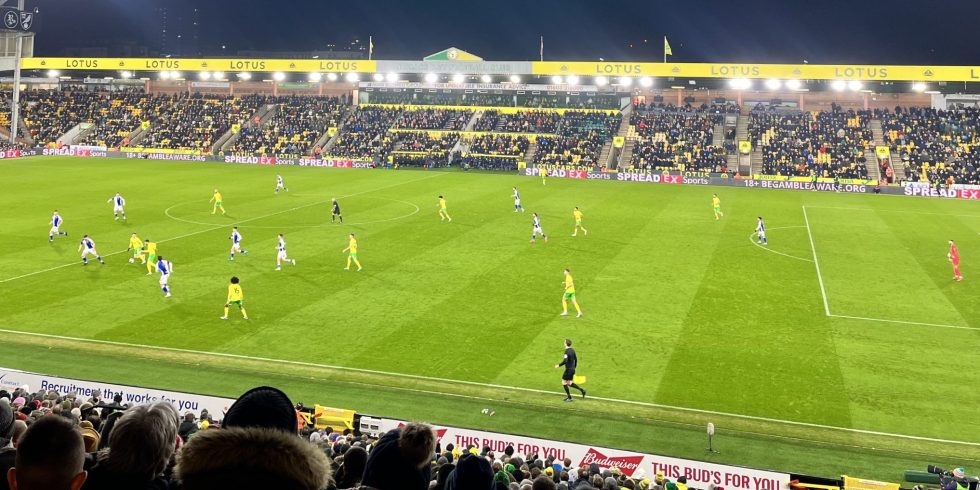 Thanks to a partnership between Norfolk Community Foundation and Norwich City Football Club, hundreds of families across Norfolk were given free tickets to matches at Carrow Road in December.
Recognising Norfolk Community Foundation's role in working with communities across the county, Norwich City Football Club approached the Foundation to distribute the tickets quickly to families struggling during the current cost of living crisis. Within a matter of hours, the Foundation had approached their local charities partners to identify young people and families who would benefit from the experience.
Over 1,500 tickets were given out by the Foundation through the Sir Norman Lamb Coalition for Young People, supporting young people's mental health, and via local food hubs to families experiencing challenges accessing affordable and healthy food. Those given the chance to attend matches saw Norwich City face off against Blackburn Rovers on Saturday 17th December and Reading on Friday 30th December, expressing that they would never otherwise have had an opportunity to get tickets for themselves.
"Most of our residents are unaccompanied asylum-seeking children (UASC). The boys are all football fans. This was all their first football game they have been to, which they loved. They were amazed by the stadium, the atmosphere and the experience. One said it was the best day of his life, stating he had never experienced anything like that before."
– Lori Anderson from the Benjamin Foundation, who received tickets to give to the children and young people they support experiencing challenges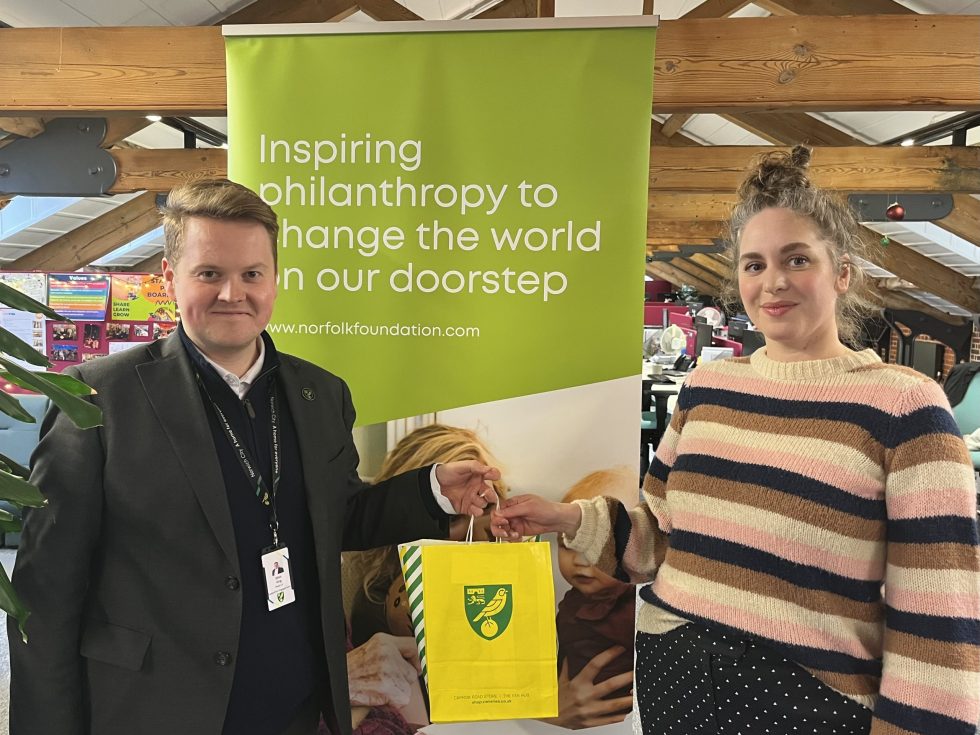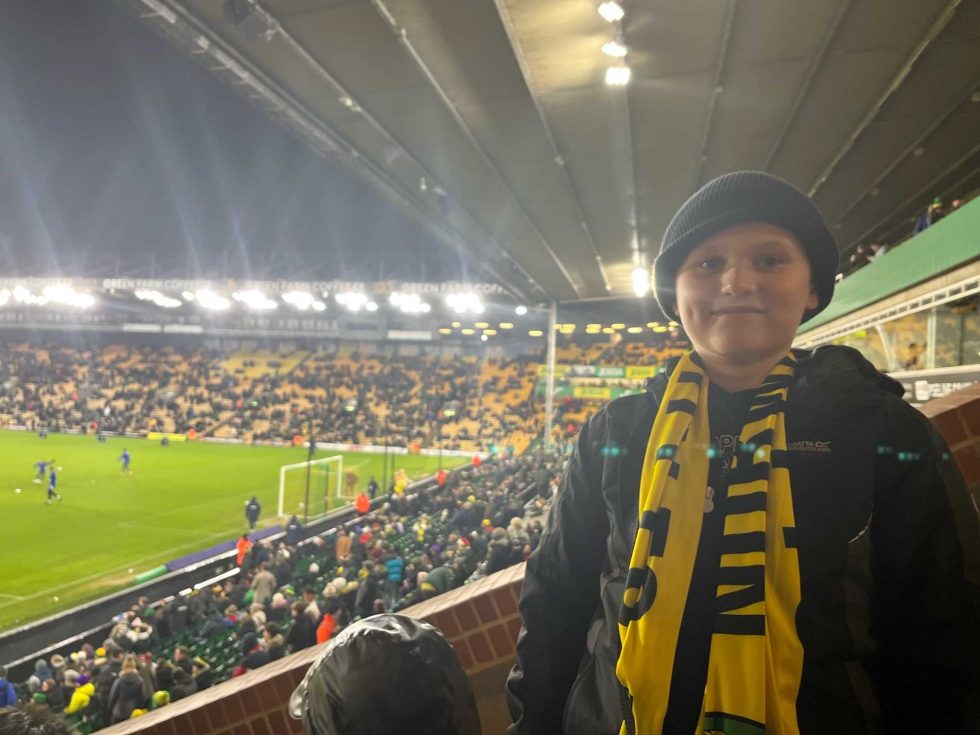 "Getting given those free football tickets made my sons Christmas come a little early, he was over the moon! When he walked out and saw that stadium his face lit up he was so happy. The staff were really kind and helpful. The atmosphere was fantastic and we all had a lovely time."
– Wendy, whose son was able to go through tickets given to the Henderson Trust in Norwich
The Daisy Programme, which works with survivors of domestic abuse in Breckland, had also requested tickets for one of the families they support. Kate Biles, Interim Programme Director, said: "The tickets were for an eleven-year-old boy who had to flee with his family to a new area and a new school because of on-going domestic abuse. He has no contact with his father and as a result there is now no one in is family to share his passion for football. He was very upset during the World Cup that he had no one to watch games with or share views on players and teams. He had never been to a live match, and he was so excited to attend, this made a very special occasion for him."
The Burrell Store in Thetford was one of the food hubs that received tickets from the Foundation to the two matches. Some of those tickets were given to the Thetford Bulldogs and Wildcats football youth teams.
"Being able to have the opportunity for these young people to see a live professional game was amazing. The adults who run and coach the teams as well as the youngsters who play would otherwise be extremely unlikely to see a match like this if it were not for the kindness of NCFC and Norfolk Community Foundation."
– Kirsty Turner, Manager of Wildcats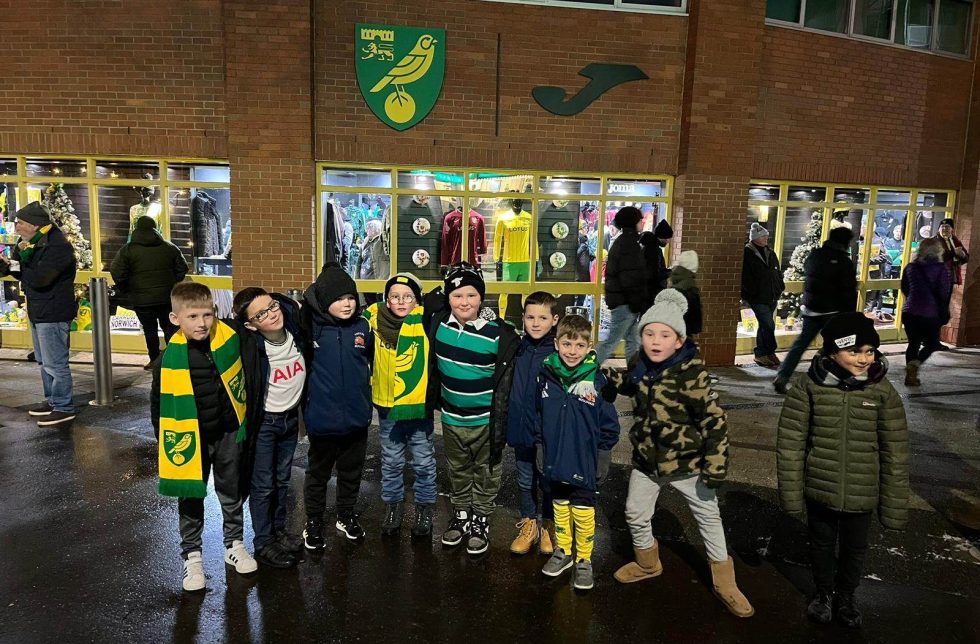 Cup-O-T Wellness and Therapy Services also received tickets to distribute to a number of young people and their families receiving counselling support, with one foster carer they work with saying: "We were able to give 'A' a great experience. He had an overview of the ground only one row behind him. Second half saw him singing and being completely engrossed in the game."
Claire Cullens, Chief Executive of Norfolk Community Foundation, said: "Huge thanks to Norwich City Football Club for generously donating these tickets for us to distribute to local individuals being supported by charities and community groups across the county. With the cost of living crisis and increasing financial pressures, many of these families have been able to enjoy watching in person a match for the first time. We know this will have been a special, once in a life-time experience for many young people and their families and something they will be able to fondly look back on together."
Zoe Webber, Executive Director of Norwich City Football Club, said: "Norwich City are delighted to be partnering with Norfolk Community Foundation to bring this ticket donation scheme to fruition. Seeing almost 1,500 people join us for the Blackburn Rovers and Reading fixtures in December, many being at Carrow Road for the first time, was an indicator of the importance that the football club can have within the community. We look forward to welcoming more supporters through Nourishing Norfolk's food hubs with this campaign."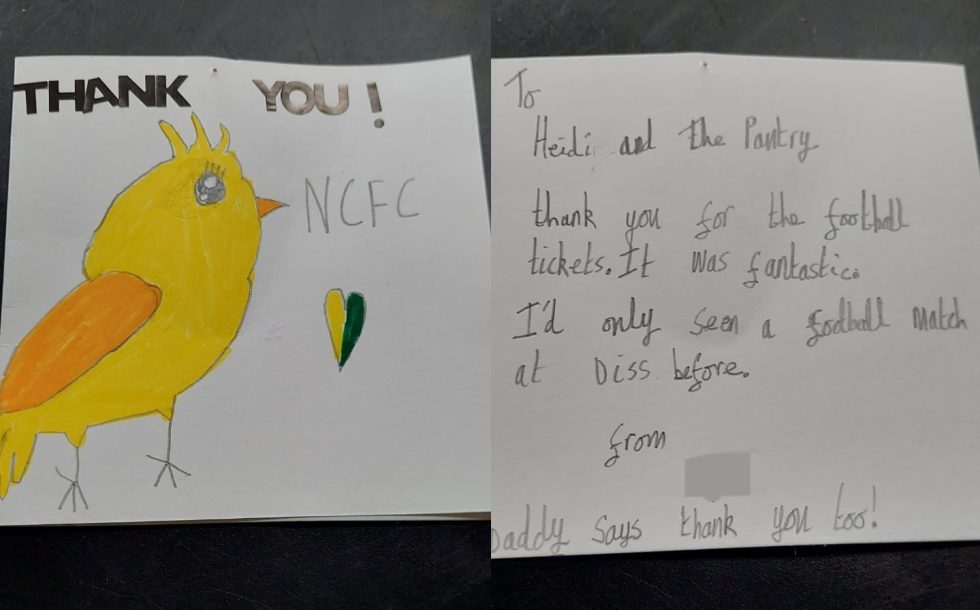 Published on: 17th January 2023