Over 60 walkers were proud to take part in Walking4Norfolk's journey from Norwich to Walsingham from 20-22 September. Some walked the whole route, others joined for a day, but all who took part did an amazing job of both raising vital funds to support unpaid carers across Norfolk and helping raise awareness of these unsung heroes in our communities.
Walking4Norfolk was inspired by the 100,000 unpaid carers in Norfolk who provide support to ill, older or disabled family members, friends or partners. These unsung heroes are thought to save local authority and NHS services in Norfolk £500 million a year, but they face many challenges and can become isolated without support. The Walk to Walsingham encouraged members of the public to enjoy a journey through the beautiful September sunshine while helping to raise funds to support these carers.
All funds raised from the walk will be distributed by Norfolk Community Foundation to local voluntary organisations throughout the county who care for and support our carers, targeted where the need is greatest.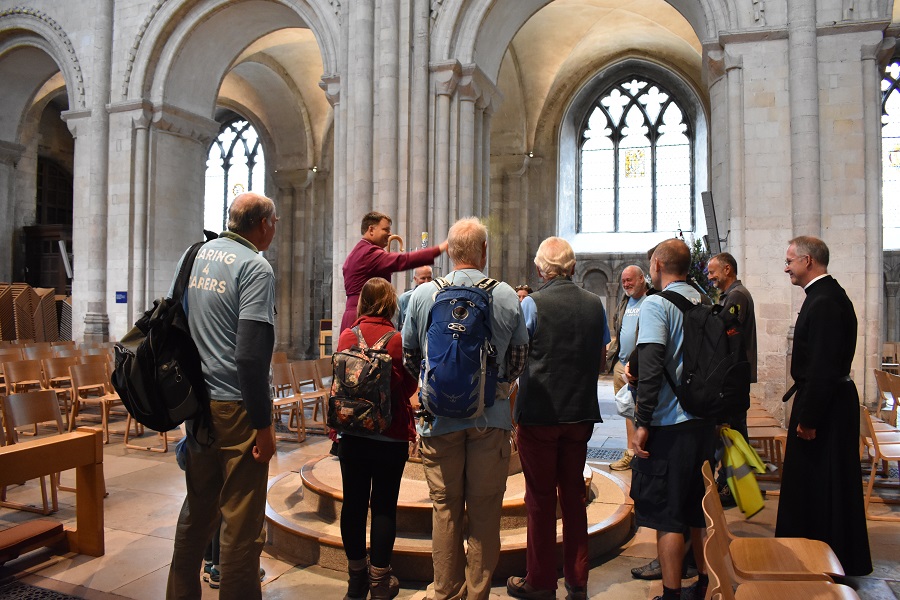 The Walk
Day 1 began with the walkers assembling at Norwich Cathedral, where the Bishop of Norwich sent them off with some special thoughts, and off they set in company of the High Sheriff of Norfolk to Lyng via Marriott's Way and Ringland.
Day 2 started with an enjoyable healthy breakfast in the village store, after which the walkers gathered for the next 12 miles to Great Ryburgh via Fustyweed and North Elmham. They were welcomed by the wonderful team in St Andrews at Great Ryburgh with tea, cake, scones and sandwiches.
Sunday morning dawned bright and clear again and the walkers headed out on the final stretch to Walsingham Abbey. Arriving at lunchtime in the blazing sunshine, they received a warm welcome and were treated to some well-deserved refreshments by Clovis and Elizabeth Meath Baker to celebrate their amazing achievement.
James Bagge, former High Sheriff of Norfolk and founder of Walking4Norfolk, said:
"During our walk to support local carers we were blessed with wonderful weather and great company to enjoy a special journey through Norfolk in the September sunshine. Thank you to everyone who took part or donated – you have made such a difference."
There's still time to donate to help carers
Lend your support to this brilliant cause. Donate online now via Virgin Money Giving
Here carer Ollie and his mother Nikki talk about how local support group Great Yarmouth & Gorleston Young Carers (GYGYC) has changed his life for the better: