Despite the current lockdown, the help offered by charities and voluntary organisations in Norfolk is needed more than ever. We're delighted at the generosity of so many people and organisations who have donated to our appeal so far, and here is an update on some of the ways how your donations have been put to use immediately to help people in our local communities.
Getting essential supplies to those who are vulnerable
We're continuing to support many charities, community groups and parish councils all across Norfolk who are providing essential supplies such as food and medications to older, vulnerable and self-isolating people in their communities, with help towards the cost of protective equipment that their volunteers need to carry this out safely.
One example is the Wellspring Family Centre in Dereham, where a large group of volunteers are working hard to keep the Centre open as a local foodbank, as a place from where to run essential errands for vulnerable and isolated people, and also to provide support via telephone for local people who are experiencing mental health issues.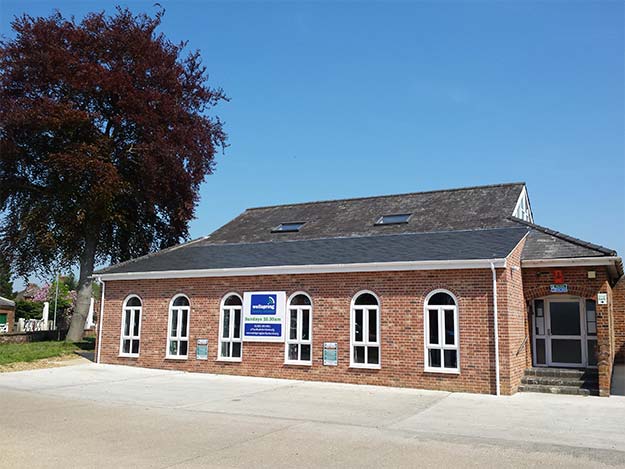 Wellspring Family Centre, Dereham
In addition, during these times of social distancing when many traditional face-to-face ways of support cannot be used, we're proud to be helping local organisations to reach people in their communities:
Helping people affected by domestic abuse during the lockdown
Those experiencing domestic abuse are at greater risk during these difficult times, with rates of abuse soaring due to being confined to homes and with the added stress of health and financial worries. We are supporting the following local domestic abuse charities who are working hard to protect those at risk:
Pandora Project, a charity offering support and advice to those affected by domestic abuse in West Norfolk, is seeing a rise in self-referrals from women experiencing abuse in the home during this difficult time. The funding is helping them to buy 10 mobile phones with credit to give to women should they need to request help urgently from the charity or the police, as abusers often monitor their partner's phone or take it away from them. They will be able to collect these phones via local collection points where possible.
The charity is also being supported to provide one-to-one support to those affected by domestic abuse via telephone and online channels, and is paying for transport for women and children who need to flee to safe accommodation, if they have no access to money and need to leave the property quickly for their own safety.

Norfolk domestic abuse support charity Leeway is currently supporting 72 children who have previously lived in households affected by domestic abuse across their eight refuges in Great Yarmouth, Norwich, North Norfolk, and King's Lynn and West Norfolk. As these children are now out of school and in self isolation, Leeway is providing them with access to wifi and online learning opportunities that can be accessed from their refuges so that they can continue their learning during this time.
Help for people with special educational needs
It is difficult for everyone to be isolated at home at the moment, and especially so for families with children with special educational needs. We're enabling SENsational Families, a charity supporting these families, to post out packs to families containing resources, activities and sensory toys to help both parents' and children's wellbeing during the outbreak, helping to ease the pressures of isolation.
Support for organisations to continue helping the vulnerable from a distance
Many charities and community groups provide important services which cannot be delivered face-to-face during the current lockdown, although more people are struggling and the need for their services is greater than ever. We're supporting many organisations so they can continue to provide their vital services remotely via telephone or online, for example:
Volunteering Matters has set up a telephone and online service to provide support to vulnerable adults with special educational needs in West Norfolk
Norfolk Community Law Service is able to offer legal advice remotely via telephone and video conferencing
Holt Youth Project can now continue supporting local young people remotely, particularly those who are more vulnerable such as their young men's mental health group that cannot currently meet in person.

Help us continue to help others
A huge thank you to everyone who has donated to our appeal so far. We still need many more funds to ensure that we can support the most vulnerable during these unprecedented times.
Donate today to help people in your local community. Anything that you can give will make a real difference.
Many thanks for your support.