Former High Sheriff of Norfolk and Love West Norfolk campaign Ambassador James Bagge talks about his love for this part of the county and how you can support Love West Norfolk Day on 14th February.
I am passionate about Norfolk. It was an absolute honour to serve as this county's High Sheriff from 2017-2018 and a privilege to meet so many people and organisations making a difference for Norfolk. My time as High Sheriff inspired me to take on my biggest challenge yet, walking to Santiago in Spain to raise funds for Norfolk's unpaid carers. At the last count, around £73k had been raised as a result.
And, as someone who was born, bred and brought up in the west of the county, and where my family has stayed for some 800 years, I love West Norfolk. So I was delighted to be asked to become the Ambassador for the Love West Norfolk campaign. I cannot think of any appointment I would rather be offered, and I am thrilled to be the Ambassador for this inspiring initiative to promote our beloved West Norfolk.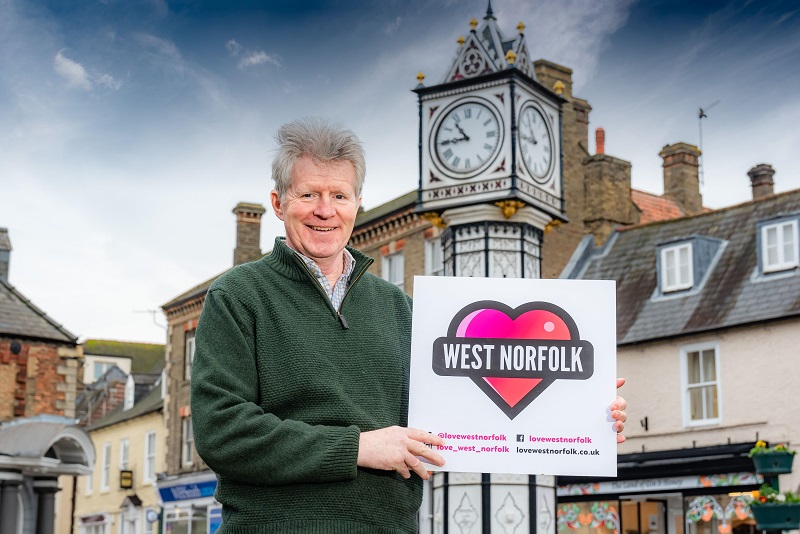 The Love West Norfolk campaign was set up in 2018 to promote and celebrate West Norfolk. Over the last two years the campaign has done this in a number of ways such as through various events, the Champions scheme which recognised individuals and organisations making a difference in West Norfolk, and quotes, case studies, and stories about why people love West Norfolk. I was pleased to get involved early on in the campaign, sharing why I love West Norfolk, adding my voice alongside many others, including Stephen Fry, Tim Bentinck and the Bishop of Lynn.
One of the highlights of the Love West Norfolk calendar is Love West Norfolk Day, held annually on 14th February. This is the day when people who love West Norfolk are encouraged to shout loudly and proudly about why they love West Norfolk, using the hashtag #lovewestnorfolk on Twitter. The campaign will be celebrating West Norfolk in different ways throughout the day but at the heart of the day are people and organisations sharing their love for West Norfolk.
Love West Norfolk Day is our chance to tell the world how much we all love our West Norfolk, its history, its people, its culture. And you don't have to be in West Norfolk to join in: if you love West Norfolk then please do get involved, go for it! It's a special part of the world and one to be proud of. You can find out more and download resources from the Love West Norfolk website.
For me, there is so much that I love about West Norfolk. I love the accent, I love the people, I love the life in West Norfolk. I love the big skies; I love how the trees so adorn the horizon. It is no wonder that my family has stayed in West Norfolk for centuries, with all that it has to offer. I really do love West Norfolk and as Ambassador for Love West Norfolk, I would encourage anyone who does too to please join in on Love West Norfolk – #lovewestnorfolk – day. Let's share with the world all that wonderful West Norfolk has to offer.
More information can be found here:
www.lovewestnorfolk.co.uk
Twitter: @LoveWestNorfolk
Facebook: Love West Norfolk
Instagram: love_west_norfolk