By Liz Hollis, freelance journalist and media consultant
It's cheaper, healthier and more sustainable than travelling by car. With evidence mounting about the substantial benefits of cycling, it's hardly surprising that charities in Norfolk are keener than ever to support staff and visitors who want to travel by bike.
"Charities have a lot to gain from implementing a cycle-friendly policy,' says James Palser, manager at the UK Cycle-Friendly Employer Scheme. 'Encouraging people to go by bike is an easy way for charities to reduce their impact on their environment and become more sustainable."
"It's better for the workforce too because staff arrive at their desks more productive, happier and healthier. It also helps them beat the traffic queues." Cyclists tend to take fewer days off sick and staff retention is improved too, he adds.
Transport is now responsible for a third of all carbon dioxide emissions* and this means charities are now under pressure to make their travel policies more sustainable.
Indeed, a new Government report reveals that we need to think beyond even full-scale deployment of electric vehicles (EVs) and start making workplaces more cycle-friendly.
'The Government should not aim to achieve emissions reductions simply by replacing existing vehicles with lower-emissions versions,' says the new report from the Science and Technology Select Committee.**
It points out that new technology alone, such as EVs, cannot cut emissions enough to meet the climate change goal of reducing the country's legally-binding target to cut the UK's greenhouse gas emissions to zero overall by 2050.
Motorists will need to ditch their cars to meet the emissions targets – opting for cycling, walking, cheap public transport and what the Government is calling 'vehicle usership' in place of ownership.
"As well as encouraging people to cycle, I would also recommend that charities check they have adequate cycle facilities. For example, somewhere where you can safely lock your bike when you get to work and that is near the building," says James Palser.
"I've seen cycle storage which is further away than the car park which is not a good idea if you want to encourage people to use their bikes. Storage with lighting and a roof and even showers and lockers are even better if you have the budget and space," he adds.
Initiative and investment by central and local Government have already improved cycle routes and encouraged more people to use them. However, unless an organisation is prepared this can lead to unintended consequences that highlight the importance of making an organisation cycle-ready.
Case study: cycle-friendly initiative by the Norfolk & Norwich Hospitals Charity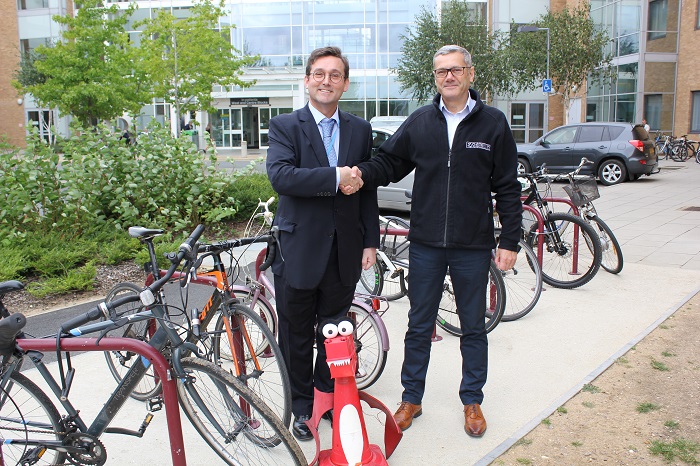 Image: Paul Jones (left), Chief People Officer at the Norfolk and Norwich University Hospital NHS Foundation Trust and and Mark Wilson, ESE Direct Sales manager, at the official launch of cycle hoops at NNUH (www.lizhollis.co.uk)
At the Norfolk & Norwich University Hospital (NNUH) a move to promote cycling by both the hospital and the local council had paid off. There was a welcome boost in the number of people arriving at the hospital by bike instead of in their car – but facilities for coping with them were lagging behind until the N&N Hospitals Charity stepped in to help.
Project manager at the hospital's facilities team, Dale Jackson said: "We are encouraging more people to cycle to the hospital. It is on a cycling route designated by Norwich City Council and numbers are steadily increasing – especially in summer."
"However, we needed more places to leave bikes since they were being locked to trees and lamp posts which is obviously not a good idea as they can block the footpaths."
One of the hospital's business supplies companies, ESE Direct, made a gift to the hospital of 10 cycle stands which were returned stock. The donated stands proved such a hit that 24 more were ordered, funded by N&N Hospitals Charity. A total of 34 are now in place, which it is hoped will cut car park queues and costs – as well as ensuring bikes are stored safely.
Dale Jackson said the donations were 'timely' in the light of the challenge of accommodating the increased number of bikes at the hospital.
Disability campaigners are highlighting the hazard of bikes parked randomly on walkways. Many cities even have schemes were people can book and unlock bikes via an app with some companies allowing bikes to be left at random within designated parking zones – against trees or even in the middle of pavements.
A new generation of electric pedal-assist bikes for hire in cities across the UK, especially in London, is likely to increase the potential hazards and need for cycling facilities.
ESE Direct sales manager Mark Wilson said: "The hospital is a long-standing customer of ours and is keen on promoting cycling, so they were the obvious choice to donate these Sheffield Cycle Hoops to when they were going spare."
The hospital is on a designated pedalway – one of seven new bike routes across Norwich set up by a £14.1m funding project called Cycle City Ambition.
Paul Jones, chief people officer at the Norfolk and Norwich University Hospital NHS Foundation Trust, officially opened the already well-used bike parking facility.
He said: "We're keen to encourage cyclists and are delighted to have these new cycle parking hoops."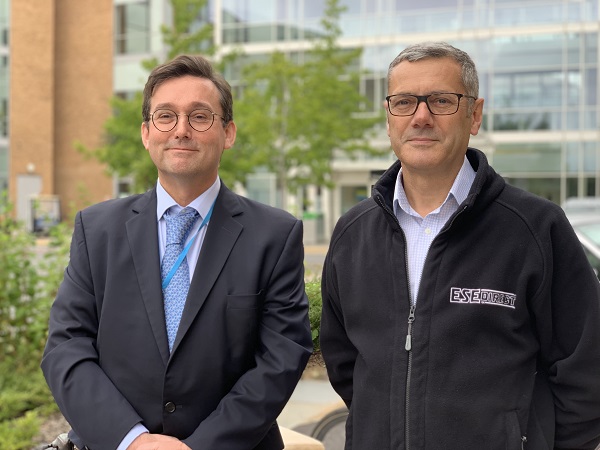 Encouraging people to cycle to work
With cycling a key part of any sustainable transport policy, it's going to be increasingly important that, as well as promoting bike use, organisations ensure they have great facilities for cyclists and are ready to accommodate them.
Explore schemes such as Cycle Friendly Employer accreditation, run by CyclingUK and the Government's Cycle to Work scheme which encourages workers to commute by bike. Make cycling an integral part of a travel plan: paying the full, tax-free cycle mileage rate. Take advantage of cycle-friendly tax incentives (see CylingUK for more detail)
Ensure bike use is an integral part of any sustainable transport strategy
Provide easy-to-use and secure storage for cycles at the workplace. Ensure the parking is as convenient as possible – as near as possible to the entrance
Provide lockers or a storage area where workers can keep bulky gear, such as cycling helmets, during the day. If it's raining, cyclists will appreciate having somewhere to hang out their wet outdoor gear to dry while they are at work. It's so much nicer to cycle home in dry clothes, rather than have to put wet gear back on again at the end of the day. Just a cupboard or a few hooks will do
Changing rooms. Serious cycling can be tough exercise, so if you've space cyclists will appreciate somewhere to shower and change into their work clothes. They'll also be useful for commuters who run to work or go to the gym during their lunchbreak
Encourage a cycling culture. Cyclists will feel welcome if they know their employer is happy for them to arrive at meetings or in the morning by bike
Run workplace cycling challenges. This can involve teams or organisations competing to see who can encourage most people to cycle. Lots of cycling organisations run workplace biking challenges you can join up to
Launch a regular cycle-to-work day. Suggest that people cycle to work, once a week on a nominated day
Start a bike club and encourage a bike-culture. Make cycling sociable and fun by bringing together employees who are interested in cycling and supporting bicycle user groups. Install a cycling noticeboard or send out a regular digital newsletter so that people can find out about national initiatives, cycle schemes or cycle-friendly events happening in your workplace
Supply pool bikes that can be used in preference to pool cars.
* 2018 UK Greenhouse Gas Emissions, National Statistics, Department of Business, Energy and Industrial Strategy: https://www.gov.uk/government/collections/final-uk-greenhouse-gas-emissions-national-statistics
** Clean Growth: Technologies for meeting the UK's emissions reduction targets: https://publications.parliament.uk/pa/cm201719/cmselect/cmsctech/1454/1454.pdf