Local fundraiser Matt Colley recently received a certificate from Norwich City Football Club players Alexander Tettey and Christoph Zimmermann after raising almost £4,000 for grassroots organisations working with children and young people in Norfolk.
The certificate was presented by the Norwich City footballers on Monday 28th September, following the 'Walk 500 Miles' fundraising challenge set last month by Sir Norman Lamb, the former Member of Parliament for North Norfolk, and Norfolk Community Foundation.
The challenge encouraged people from across Norfolk to collectively 'walk 500 miles' in August, raising nearly £20,000 for the Sir Norman Lamb Mental Health and Wellbeing Fund.
People taking part in the challenge walked, ran and cycled anywhere from 30 to 600 miles by themselves and in groups. These included Sir Norman, who raised over £8,500 himself by cycling more than 100 miles, Sir Norman's wife, Mary, who joined up with a friend to walk part of Norfolk's Coastal Path at the beginning of August, Norfolk's High Sheriff, Georgina Roberts, who came together with members of her family to collectively walk 500 miles, and 'Norfolk's Loo Lady' Emma Spagnola, who walked 200 miles on a treadmill to highlight the distance between all of the current Changing Places in Norfolk.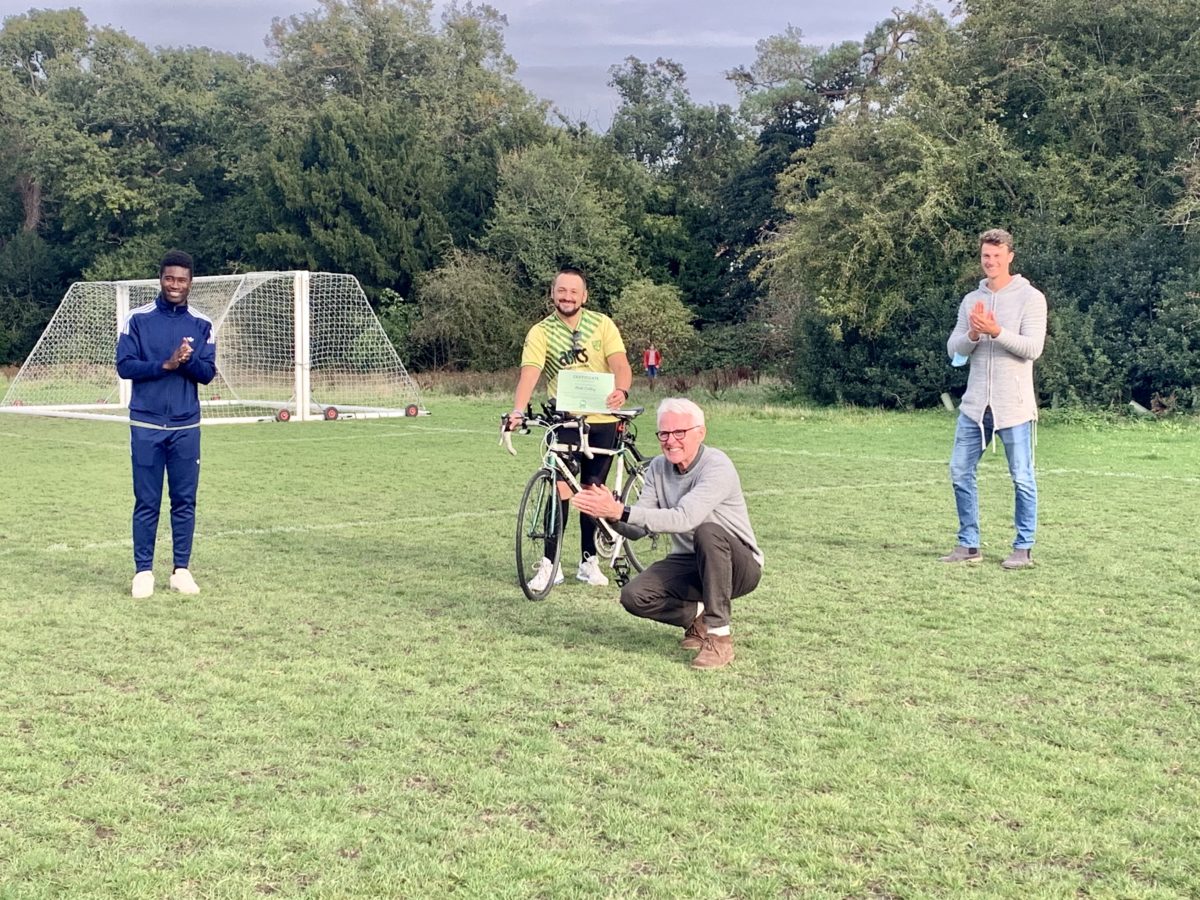 Matt Colley receiving his certificate from Sir Norman, Alex Tettey & Christoph Zimmermann
Newfound cycling enthusiast Matt Colley raised the most amount of money after Sir Norman, setting an ambitious target of cycling 500 miles during August with the aim of both improving his own personal fitness and helping to raise awareness and encourage open conversations for those experiencing mental ill health, a cause close to his heart. After beating his initial target of 500 miles before the end of August, Matt increased his target to 600 miles and has since started his own fundraising challenge to cycle 5,000 miles for five different Norfolk-based charities and organisations, including Sir Norman's Fund.
Matt said: "In these uncertain times, it's vital that we continue to pull together as a community and support people who are struggling with their mental health. Undertaking this challenge has not only improved my own mental and physical health, but given me renewed confidence to do my bit to help Norfolk to become a more open, inclusive and supportive place."
Sir Norman said: "I am enormously grateful for everyone who took part in the challenge, from my wife, Mary, to Matt Colley, who went above and beyond, as well as High Sheriff Georgina Roberts and many others who helped raise vital funds for community-based organisations doing brilliant work with children and young people in our county. The need for help is greater than ever now in the aftermath of the Covid crisis."
Christoph Zimmermann, who is also an ambassador for Sir Norman's Fund, told the Eastern Daily Press: "So many people suffer from poor mental health and issues like loneliness, and during the coronavirus crisis that has only been intensified. It's nice to know so many people will benefit from Matt's great efforts."
How people can help
You can contribute directly to Sir Norman's Mental Health and Wellbeing Fund online at www.norfolkfoundation.com/giving-philanthropy/mental-health or alternatively send a cheque made payable to Norfolk Community Foundation (referencing the Sir Norman Lamb Mental Health and Wellbeing Fund) to Norfolk Community Foundation, St. James Mill, Whitefriars, Norwich, NR3 1TN.