A student, singer/songwriter and playwright have all come together to compose a charity single to raise money for causes close to their hearts.
During Lockdown, student Josh Shea and his mum, singer/songwriter Liz, took daily bike rides around picturesque Jersey. Together, inspired by beautiful rainbow pictures across the island, they composed 'Can You See the Rainbow?' with friend, collaborator and playwright Karen Forbes- Ewing who helped shape the lyrics.
Since then, they have recruited others – including Tring Park 16, BBC Songs Of Praise Young Choir of the Year 2019 – to record and release the song as a charity single. Upcoming actor Josh (who starred in Fantastic Beasts: The Crimes of Grindelwald) sings the lead vocal alongside pop vocalist Lydia Singer, both recent graduates from the performing arts school in Tring.
International conductor and choirmaster David Lawrence has arranged the song for SATB choir for this recording and Olly Scott (Chetham's School of Music) has produced the song together with Dominic Ferris, West End music producer at Sony/UMG and ambassador for Steinway and Sons.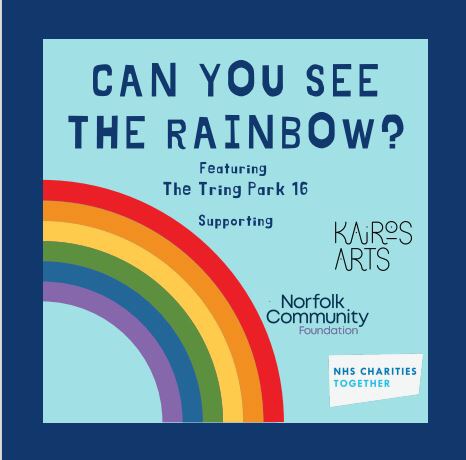 Josh, Liz and Karen all chose charities to raise money for, reflect causes close to the hearts, with Liz supporting Kairos Arts who facilitate therapeutic arts workshops for domestic abuse, trafficking and dementia sufferers and Josh choosing the NHS Charities Together in support of care workers nationwide.
Inspired by former MP Sir Norman Lamb's legacy in support of the children and young people of Norfolk, Karen chose to raise funds for the Sir Norman Lamb Mental Health and Wellbeing Fund, set up at the Norfolk Community Foundation last year to support the mental wellbeing of children, teenagers and young adults in Norfolk.
You can listen to 'Can You See the Rainbow' here and make a donation for Karen Ewing's fundraiser, in aid of the Sir Norman Lamb Mental Health and Wellbeing Fund, here.